News & Press
23-01-2023
NEW! EOTech G43 and G45 Magnifiers in Flat Dark Earth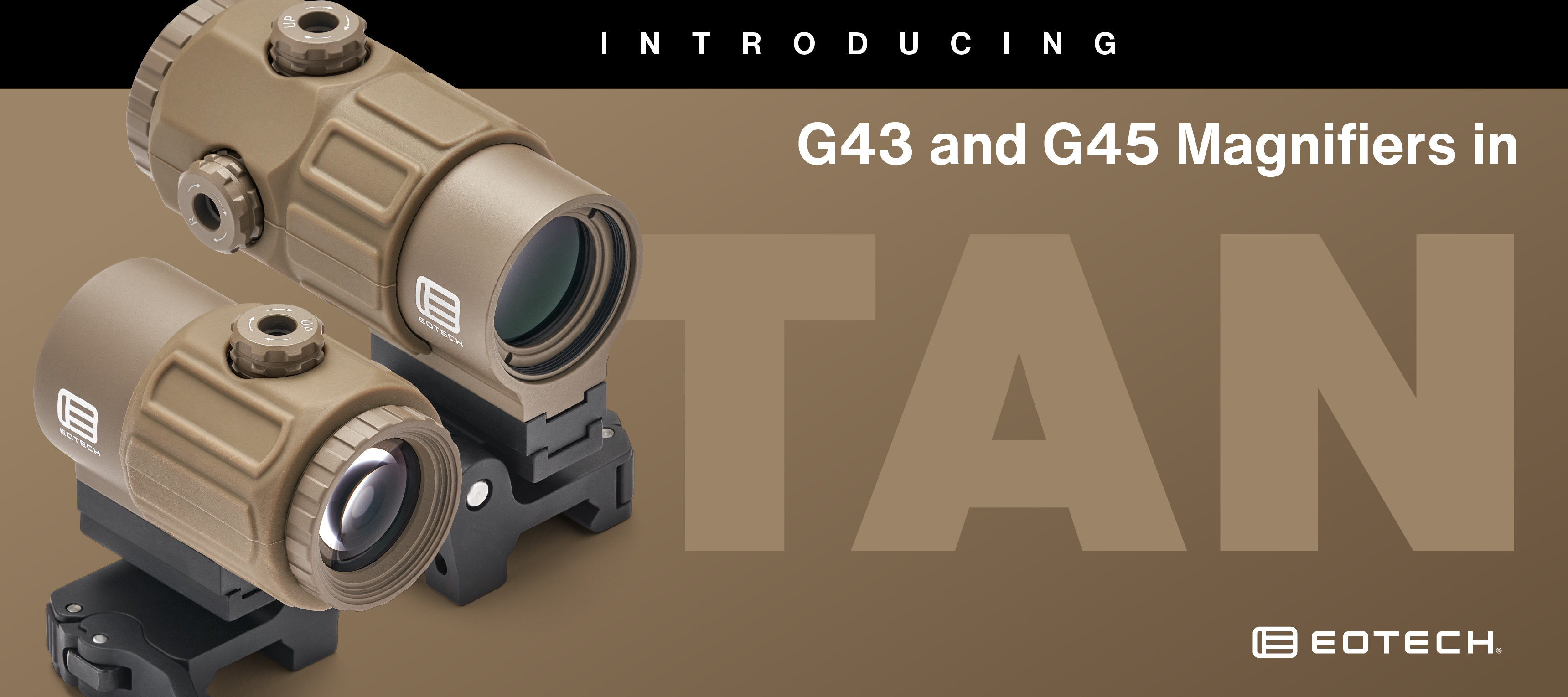 Plymouth, MI (January 5, 2023) – EOTECH Magnifiers enhance any EOTECH Holographic Weapon Sight (HWS) by enlarging the target's image when needed. EOTECH's G43 and G45 magnifiers pair perfectly with any EOTECH HWS, transforming them into close to medium-range weapon sight systems.  New for 2023, the G43 and G45 will be available in Flat Dark Earth color, to complement the FDE colored optics and firearms widely used.


The magnifiers include a Switch-to-Side magnifier mount with a locking, adjustable, quick detach lever.  When mounted, the magnifier snaps into place behind the HWS when needed and out of the way when not required. Its ambidextrous design switches either to the right or left to accommodate the shooter's preference. Both magnifiers feature tool-free vertical and horizontal adjustments for simple reticle centering and an adjustable diopter quickly focuses the magnifier to suit the user's eyes.


"The biggest advantage the magnifiers offer with a Holographic Weapon Sight is that the dot size doesn't change when viewed with magnification" said Mark Miller, Director of Product Management for EOTECH. "The target enlarges, but the dot remains 1MOA providing greater accuracy. This is different from red dots because their dots will grow in size at the same rate as the target, so no additional precision is gained."


Both the G43 and G45 magnifiers have similar specifications; the biggest difference is their magnification. The G43 is a 3X magnifier, while the G45 is a 5X. The G45's additional 2X magnification allows precise aiming at greater distances. The G43, at 3X, offers a slightly wider field-of-view than the G45 for better situational awareness at mid-range distances. Choosing the best magnifier comes down to the user's preference.
14-12-2022
NEW! GSCI MTARTM-HUD
Multi-Task Augmented Reality™ Night Vision Monocular Attachment Heads-Up Display
After a long wait it is finally here - the Multi-Task Augmented Reality™ night vision monocular attachment heads-up display (MTAR™-HUD). Highly desired by professionals, the device is now entering the global market.
It is not just a tool, it is a necessity, as hundreds of thousands of Night Vision Monoculars which are currently in service can now be used to provide a helping hand to the operator - offering features such as GPS, Compass, Rangefinder, and Video Recorder. MTAR™-HUD transforms the elementary Night Vision Monocular into tactical tool to give the operator the ultimate advantage.
GSCI Advanced Photonics is well known as one of few manufacturers of high end optical-electronic equipment, with a track-record of over 30 years in the industry. End use customers who were lucky enough to get their hands on the newly developed MTAR-HUD during trials have said it is "simply a game changer", allowing you to transfer your basic night vision monocular into an all-in-one observation, detection, and augmented reality reconnaissance device.
07-03-2022
NEW! Pulsar Merger LRF XP50
12-02-2022
NEW! Schmidt & Bender Turret retrofits
18-01-2022
NEW! Schmidt & Bender PM II 6-36x56
06-01-2022
NEW! HikMicro
HIKMICRO is a leading provider of thermal imaging equipment and solutions. Specializing in SoC and MEMS design, development, and manufacturing, the company offers thermal detectors, cores, modules, cameras and total solutions to the global market, serving customers in more than 100 countries and regions.
HIKMICRO places a high value on research and development, empowering its continual progress in thermal technology. The company earned ISO9001 certification in 2018, demonstrating its quality-first philosophy from the very start. Through continuous innovation, HIKMICRO's products and solutions constantly meet the diverse needs of individual, commercial, industrial, and utility customers around the world.
14-10-2021
NEW! Swarovski tM 35
Featuring state-of-the-art thermal imaging technology, the tM 35 impresses both as a thermal imaging hand-held device and as a thermal imaging clip-on device. The proven, energy-saving SWAROLIGHT automatic switch-on/off timer and intelligent brightness adjustment ensure it is ready for use at all times. Depending on the hunting situation, detail recognition can be enhanced by switching between White Hot and Black Hot mode. The tM 35 can be operated intuitively in darkness and is compatible with SWAROVSKI OPTIK rifle scopes from the Z8i, Z6i, Z5(i), and Z3 series.
28-09-2021
NEW! OPS-CORE Helmets
The FAST Bump high cut shell is designed for less extreme environments where ballistic threats are not a priority, and the focus is on protection from blunt trauma forces, or where the primary need is for integration of mission-configured components.
Molded front NVG mount, 4-position Ops-Core ARCTM Rails, and NEW Universal Exterior Loop Lite Pattern
Vent holes for increased ventilation and water drainage
Improved blunt impact performance per ACH CO/PD 05-04: 2007
Non-ballistic high cut shell provides a low-cost alternative to the FAST Carbon
Available with one suspension/retention option
Includes Ops-Core Helmet Bag
Meets the requirements of BS EN 1385: 2012 and Ops-Core PS-1145 
*FAST Bump Helmets are molded with a visible split sizing. When ordering replacement parts for this helmet, use the single size indications.
02-09-2021
NEW! NIGHT-TRONIC Nightvision up to 4+ Photonis tubes.
NEW! NIGHT-TRONIC Nightvision up to 4+ Photonis tubes.
For more information click here
02-05-2021
NEW! Pulsar Proton FXQ30
Pulsar Proton FXQ30 – New Color Display Thermal Front Attachment
03-02-2021
NEW! Swarovski EL Range (with Tracking Assistant)
The integrated Tracking Assistant makes it much easier to track your prey by guiding you to where you fired your last shot. You can opt to use this program via your phone or your EL Range.
Use the smartphone app to configure the binoculars to your specific needs and individual ballistics data. Based on this and atmospheric data such as air pressure and temperature, it helps you to shoot with even greater precision because, along with the adjusted shooting distance, it also gives you the number of clicks needed for your rifle scope.
22-01-2021
NEW! Pulsar Helion 2 XP50 and Accolade 2 LRF XP50 Pro Series
16-01-2021
NEW! Swarovski dS Gen. II 5-25x52 P L
Responsible hunting is the top priority. For this way of hunting, the dS rifle scope offers the best possible support. And this is even more true for its successor - the new dS Gen. II.

EXCELLENT DESIGN, ERGONOMICS, AND AESTHETICS
Design and ergonomics have been hugely improved. Thanks to the enhanced cockpit and a slimmer battery tower, the handling of the new dS is even more intuitive, easier and faster. At the same time, the elegant shape and the harmonious proportions lead to a visually pleasing union of your rifle scope and weapon.

IT IS OPTICS THAT COUNT
The dS Gen. II offers uncompromising optics with:
a 5x zoom for a magnification of 5 up to 25,
a high detail recognition, and
15-01-2021
NEW! Kahles K525i 5-25x56 SKMR 4 DLR
The K 525i combines maximum optical performance and precision with unique handling and ergonomics. The new DLR model was optimised for the high requirements that the speed at Dynamic Long Range competitions brings, while additionally being equipped with an extra wide field of view, easy readable clicks, extra-long throw lever, and a parallax spinner.
The central array of the parallax wheel is only available at and patented by KAHLES, which allows for ergonomically optimal and extremely quick - both right- and left-handed - operation of the adjustment options for side elevation and parallax correction. The important click indicators on the turrets were enlarged even more on this K525i model and are now easier to read and operate from the shooting positions in DLR disciplines and their fast time laps.
The TWIST GUARD anti-twist safeguard that was established and patented in the meantime reliably prevents accidental adjustment of the windage turret with its freely rotating covering cap. It allows for fast, unobstructed operation by the shooter, without time-consuming "locking" or "unlocking". The supplied extra-long throw lever and the parallax spinner ensure for an even faster and more intuitive adjustment of magnification and parallax.
The K525i DLR is furthermore equipped with the newly developed illuminated reticle SKMR4 on the first focal plane, specifically developed for the dynamic requirements of competitions, such as PRS.
With the K525i DLR, the shooter can concentrate on the essentials in a competition and hit the target even faster.
PRODUCT HIGHLIGHTS
.:. Maximum optical performance with extra wide field of view
.:. 100 clicks per rotation - absolutely reliable repeat accuracy and clearly defined clicks
.:. Extra-large turret lettering for easy and fast reading
.:. Optional left or right TWIST GUARD windage
.:. Special equipment: extra-long throw lever & parallax spinner for quick adjustments
.:. Precise illuminated SKMR4 reticle in 1st focal plane
16-10-2020
NEW! Zero Compromise Optic
Uncompromised optical and mechanical systems - Made and designed in Austria and The United States!
Zero Com­pro­mise Optic is and al­ways has been a multi-na­tional af­fair. Since the com­pany was cre­ated, we com­bined the best op­ti­cal, me­chan­i­cal, new de­sign cre­ation, and per­for­mance dri­ven minds from Aus­tria and The United States. The ZCO staff in­clude mem­bers that hold mul­ti­ple patents in the rifle scope in­dus­try, have de­signed some of the most ro­bust me­chan­i­cal sys­tems that are still being used today, have held top level man­age­ment po­si­tions, as well as a re­tired U.S. mil­i­tary of­fi­cer among many other back­grounds.
05-09-2020
NEW! Pulsar KRYPTON FXG50
Here at Pulsar, we are very happy to unveil KRYPTON FXG50, our first ever Thermal vision front attachment with 640x480 @ 12 µm sensor. 
 
Yukon Advanced Optics, the leading developer and manufacturer of night and thermal vision optics for outdoor professionals and hobbyists,
has launched KRYPTON FXG50 a thermal imaging front attachment for daytime optics that also doubles as a handheld monocular.
This new device very quickly converts your daytime scope to a full feature thermal optics, without the need to re-zero or having to replace the scope itself.

KRYPTON will be sold in 2 versions:
KRYPTON XG50 will come with a 5x monocular, meant for handheld use.
KRYPTON FXG50 will come with an adaptor (for 42mm, 50mm or 55mm) for daytime scopes.
01-07-2020
NEW! Swarovski NL PURE
21-03-2020
NEW! Pulsar New series 2
New series 2 devices are here! Together with unprecedented thermal sensitivity of lower than 40mK sensors. 
We are excited to announce the 2nd generation of Pulsar thermal imaging devices for outdoor professionals, hobbyist and tech-pioneers:
Thermal imaging riflescope TRAIL 2 LRF XP50 
Thermal imaging monocular Helion 2 XP50
And thermal imaging binoculars Accolade 2 LRF XP50